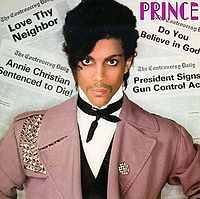 Controversy is Prince's fourth album, released on October 14, 1981. For the most part, the album was an expansion of its predecessor, 1980's
Dirty Mind
. The title track is a funk workout, where Prince seems to be bored of the media attention he was receiving. "Do Me, Baby" is a classic Prince ballad, with falsetto whoops peppering the track. "Private Joy" is an upbeat, synthesizer romp layered with innuendo. "Let's Work" is a highlight, based on a funky bass line with a stripped down synth-funk sound, foreshadowing Prince's next album,
1999
. "Annie Christian" is an odd political number with sinister lyrics. The album finishes with the rockabilly ode to mutual masturbation, "Jack U Off". This record was considered to be his most political to date. The album was also an important stepping stone from his early works to the more mature song writing of the mid 1980s.&nbsp

All tracks composed and arranged by Prince
Side one
"Controversy" – 7:15
"Sexuality" – 4:21
"Do Me, Baby" – 7:43
Side two
"Private Joy" – 4:29
"Ronnie, Talk to Russia" – 1:58
"Let's Work" – 3:54
"Annie Christian" – 4:22
"Jack U Off" – 3:09

Personnel
Prince - vocals, guitar, bass, keyboards, drums
Bobby Z. - drums on "Jack U Off"
Brown Mark - bass guitar on "Let's Work"
Lisa Coleman - backing vocals, keyboards on "Jack U Off"
Dr. Fink - keyboards on "Jack U Off"
Dez Dickerson- lead guitar
Community content is available under
CC-BY-SA
unless otherwise noted.